---
This bluetooth TPMS can be used in motorcycle, motor tricycle, car with the bluetooth communication between TPMS sensors and your mobile phones. Users can easily acquire the tires Data from TPMS app.
Features:

Easy installation on motorcycle, motor tricycle and cars
instant voice alert for tire pressure or temperature alert
Bluetooth connection between sensors and cellphone
iOS and android APP support
waterproof and anti-corrosion, anti-theft, heat resistant
Specifications:
chip:                                                ARM MO
working voltage:                              3V
working current:                              100μA
sleep current:                                   100μA
bluetooth frequency:                        2.4GHz
bluetooth emmision power:              0dB Max
response time:                                 ≤5s
display mode:                                   APP on iOS or android
waterproof:                                       IP67
tire pressure accuracy:                      ±10kPa
tire pressure range:                           0 - 6bar / 0 - 87psi
tire temperature accuracy:                ±3°C
working temperature:                       -30°C to +80°C
storage temperature:                        -30°C to +85°C
battery capacity:                               140mAh
baterry life:                                       2 to 3 years
sensor N.W.:                                     10g
G.W. for whole device with packing:  800g

Packing:
TPMS sensor: 4pcs;
assemble tool: 1pcs;
anti-theft nuts: 4pcs;



Operation of TPMS APP:
Use your mobile phone to scan the QR code on the packaging box to download and install the app




When you open the app, you will be prompted whether the mobile phone device has Bluetooth enabled. If not, you can choose to open it (you must turn on the Bluetooth function of the mobile phone), and the main interface will appear. The first interface you enter is the four-wheel car mode. If you slide the mobile phone interface to the left, you can adjust to the three wheeled motorcycle, two wheeled motorcycle: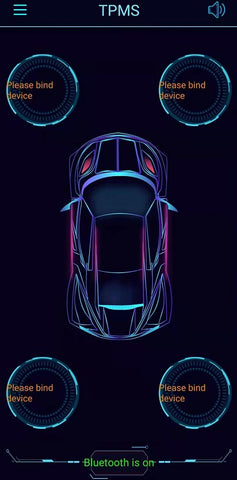 Click the menu bar in the upper left corner to open the corresponding menu and select bind new device: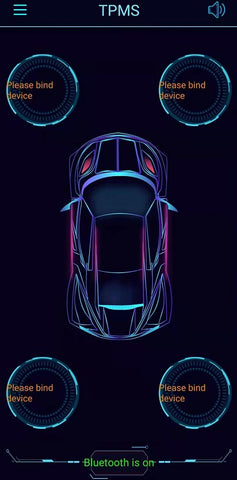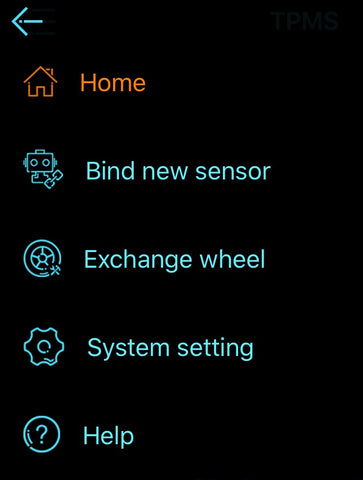 Bind the new device interface directly, select "auto bind" and then install the bound sensor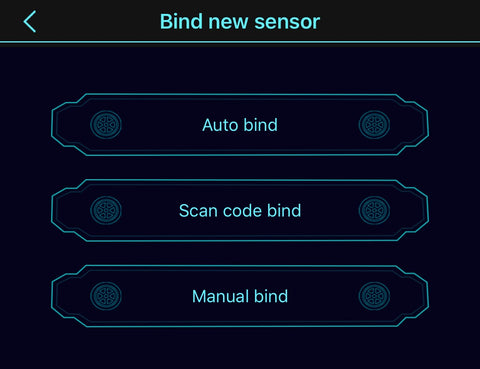 After automatic binding is selected, the following interface will appear. We directly click "please bind device" in the corresponding tire position in the countdown (tire sensor is installed within 60s of countdown), and the corresponding sensor code will be matched to indicate that the binding is completed.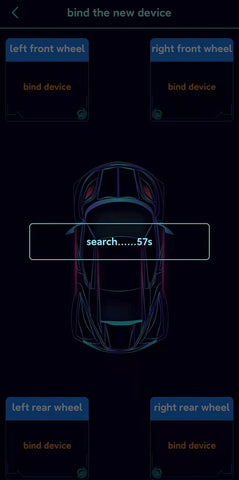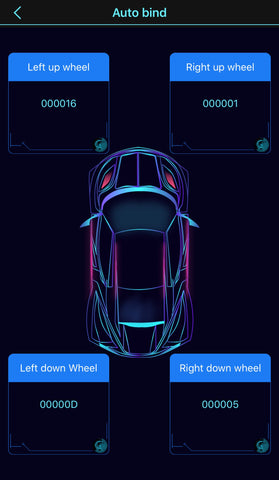 After completing the above operation, the sensor operation binding has been completed successfully. Press the return key in the upper left corner for three times to exit the main interface to query the current tire pressure display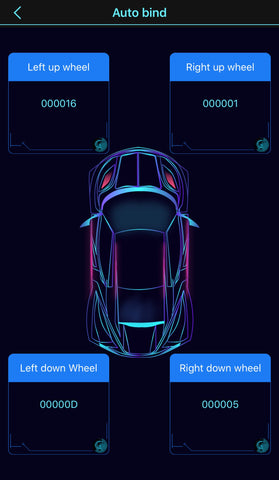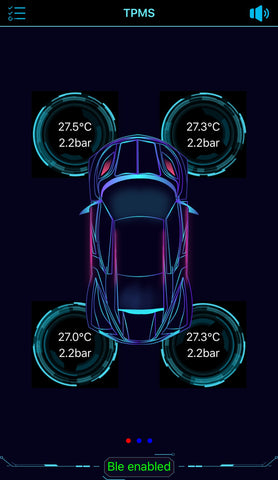 Equipment installation instructions
1,Sensor components
Tire location map for sensor installation

Installation method of external sensor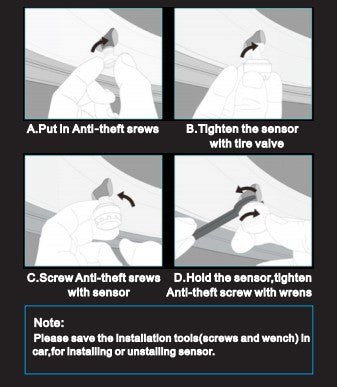 Cautions:
• The android APP is temporarily downloaded from other store, not google play. Kindly note it.
• APP supports Chinese and English language. Users can changes language in settings.

warranty
The warranty date of all our products is 18 months. Contact us if you have any questions about quality.
Shipping
We will try to dispatch in 48 hours or so during the business days once we confirm your payment. We don't arrange shipment on weekends or public holidays. If you didn't receive the goods in expected time, please contactu us first, we will check that and do our best on your needs. Thanks.

We provide this manufacturer's warranty of 12 months from the date of purchase for all Tomanbox products. If you believe you have received a defective product, or are experiencing any problems with your product, please contact us.

This warranty strictly does not cover damages that arose from negligence, misuse, wear and tear, or not in accordance with product instructions (dropping the product, etc.).

If your product malfunctions or fails to perform, you may be eligible for a free replacement (Terms & Conditions apply).

To obtain service under this Warranty, please contact us with the following information in order to determine the problem and the most appropriate solution:

Proof of purchase
Photo/Video of the faulty product
Please clearly specify the issue with your purchased item. If the problem cannot be resolved, we will send you a replacement, or a full refund including all delivery charges.

Please provide a valid proof of purchase in your initial enquiry, such as your order number on our online store, or a receipt from an authorized retailer. Unfortunately, we cannot offer the warranty to products without proof of purchase.

Please note, to receive a free replacement, you may be asked to send the faulty product to TomanBox at no cost to you. Full warranty terms & conditions can be found below.
DETAILED LIMITED PRODUCT WARRANTY POLICY
This manufacturer's warranty is not intended to change or limit your right under the laws of the country in which you purchased TomanBox product. TomanBox warrants our products against defects in material or workmanship for a period of two (2) years from the original date of purchase of the product by a consumer (the "Warranty Period"). TomanBox does not warrant and is not responsible for any other product or device made by anyone other than TomanBox. If a material or workmanship defect arises with regard to any TomanBox product, and a valid claim is received within the Warranty Period, we will at our option: (i) repair the TomanBox product using new or refurbished parts; (ii) replace the TomanBox product with a new or refurbished TomanBox product; or (iii) refund the purchase price of the defective TomanBox product. You may also have other legal rights under the applicable local consumer protection law.

For the purposes of this limited warranty, "refurbished" means a product or part that has been substantially returned to its original specifications. In the event of a defect, these are your exclusive remedies.

Except for the limited warranty expressly set forth above or to the extent restricted or prohibited by applicable law, TomanBox expressly disclaims any and all other warranties express or implied, including any warranty of quality, merchantability or fitness for a particular purpose and you specifically agree that TomanBox shall not be liable for any special, incidental, indirect, punitive or consequential damages for breach of any warranty of any type on any TomanBox product. For the avoidance of doubt, the limited warranty does not cover damages that arose from negligence, misuse, wear-and-tear or failure to follow the product instructions (e.g. dropping the product etc.). In addition to and without limiting the generality of the foregoing disclaimers, the limited warranty does not, under any circumstances, cover the replacement or cost of any electronic device (including but not limited to any mobile phone devices) or personal property inside or outside of the TomanBox product.