---
AT08 series product is a STM32 MCU platform with a ultra low power consumption MCU product. It Offers 3G and 4G networking. It has two strong magnets and 4000mAh li-polymer battery for long time working and strong attachment. You can use it on fleet, container, and other metal surface by magnets of device. Supported in GPS tracking software platforms: It can be implemented on fleet, container and other metal surface by magnetic bar under the device.
Features
GPS/Beido/Glonass
3G | 4G LTE.
5V external power supply
3D tremble sensor detecting movement and stop
Standard Size Sim
4000mAh li-polymer Battery
2M stoarage for16000 data
Micro USB interface
Firmware OTA
Lower Power Consumption
Smart Power Management
Waterproof
two magnets for stronger force
30 days in 60 mins interval
3-4 hrs full charge by 5V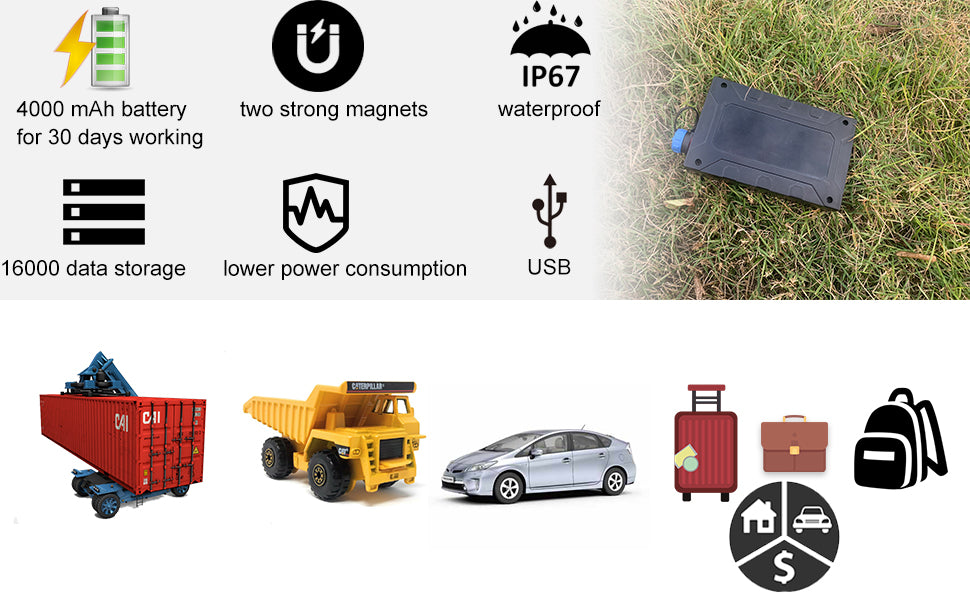 Environment Specs
Operating Temperature        -20°C to 60°C
 Battery charge: 0°C to 45°C Battery;discharge: -20°C to 60 °C  Storage: -20°C to 60°C Humidity      5% to 95% Non-condensing

Electrical Specs
Power supply range    DC 5V
Maximum current       idle: 70mA |  sleep: 39mA |  deep sleep: 1mA

magnet        Neodymium magnet
BHmax: 287-310(KJ/m3)
working tempeature: 80°C
remanence: 1200-1250(T)

Frequency
LTE / 4G       Quectel EG91 for AT08 4G (LTE CAT 1)
B1/B3/B7/B8/B20/B28 @ LTE FDD, B1/B8 @ WCDMA,
B2/B4/B5/B12/B13 @ LTE FDD, B2/B4/B5 @ WCDMA,
B2/B4/B5/B12/B13/B25/B26 @ LTE FDD, B2/B4/B5 @ WCDMA,

GNSS module      uBlox M8 engine | AT6558R
GPS/  Glonass/ BeiDou     Frequency: 1575.42MHz (GPS), 1601.71MHz (Glonass)
Acquisition sensitivity: -148dBm
Tracking sensitivity: -162dBm
Reacquisition sensitivity: -160dBm
CEP: 2.5m
How to Use
1
. unscrew 4 screws to open the casing.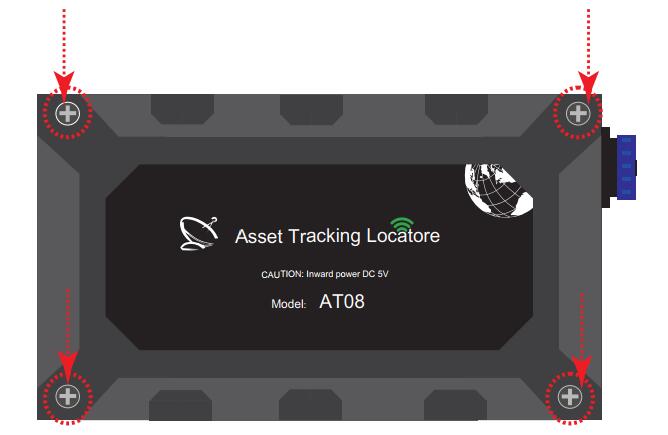 2
. push the SIM slot to unlock it. SIM metal side faces to PCB board.
3
. lock the SIM in slot.
4
. push the SIM slot to unlock it. SIM metal side faces to PCB board.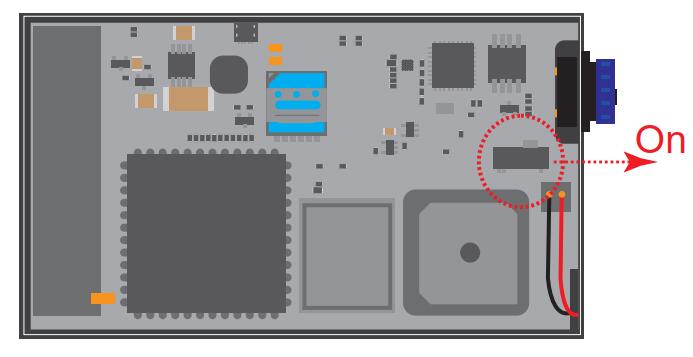 5
. connect device to PC by USB cable and run configurator or configure by SMS.

6
. charge device by wall charger or cigarette USB charger in the vehicle if device runs out of battery.

Where you can use 4G LTE GPS tracker AT08
assets, backpacks, luggages, cars, trucks, logsitics, the metal surface on which you can attach AT08 with strong strength magnets.

What benefits From GPS tracking device AT08 we can get
● Long years stability in severe environment
● More support in various peripherals. It means you can meet different needs of users
● firmawre customization support, even hardware customization support
Size:
 114×72.5×26.2mm or 4.5×2.9×1inch
Tracking Software Platform:
http://www.longtrac.com/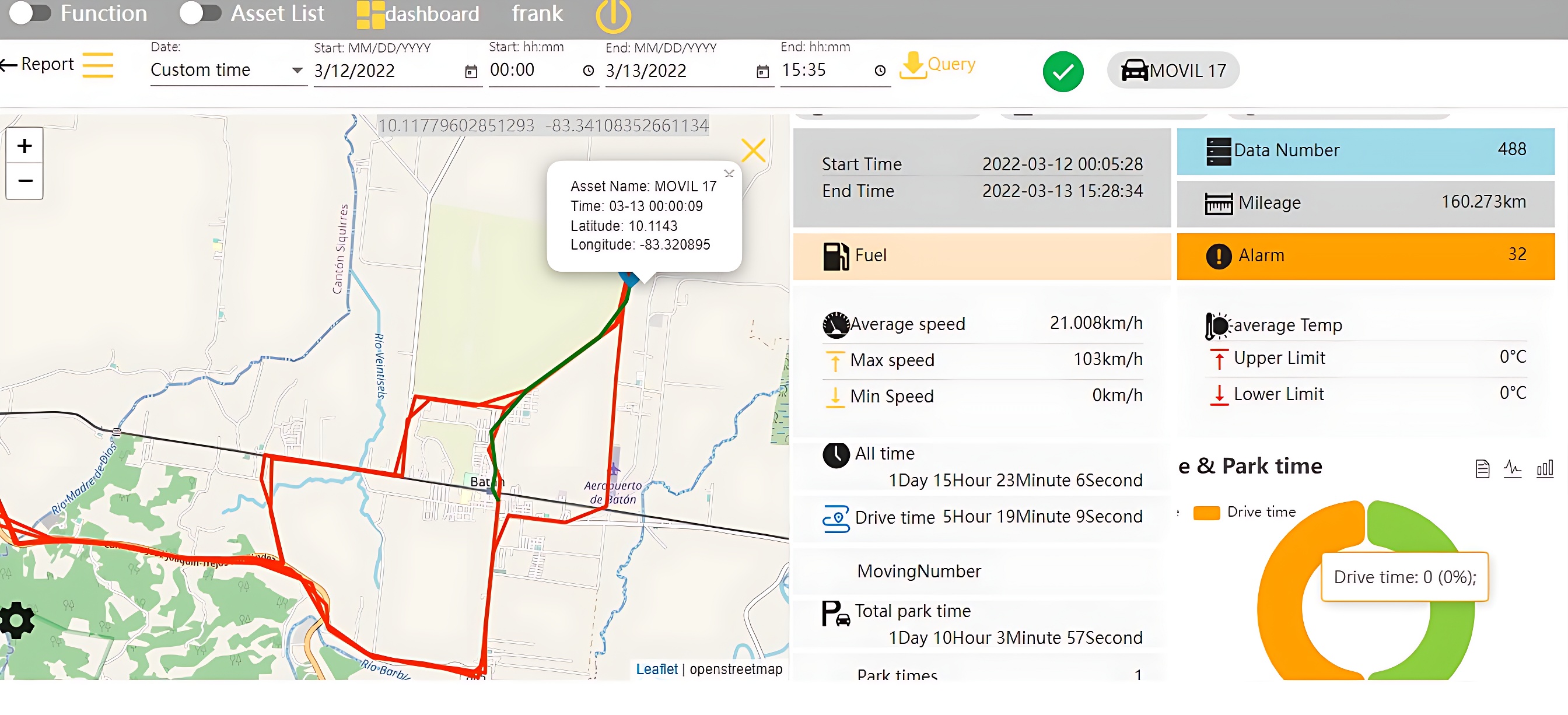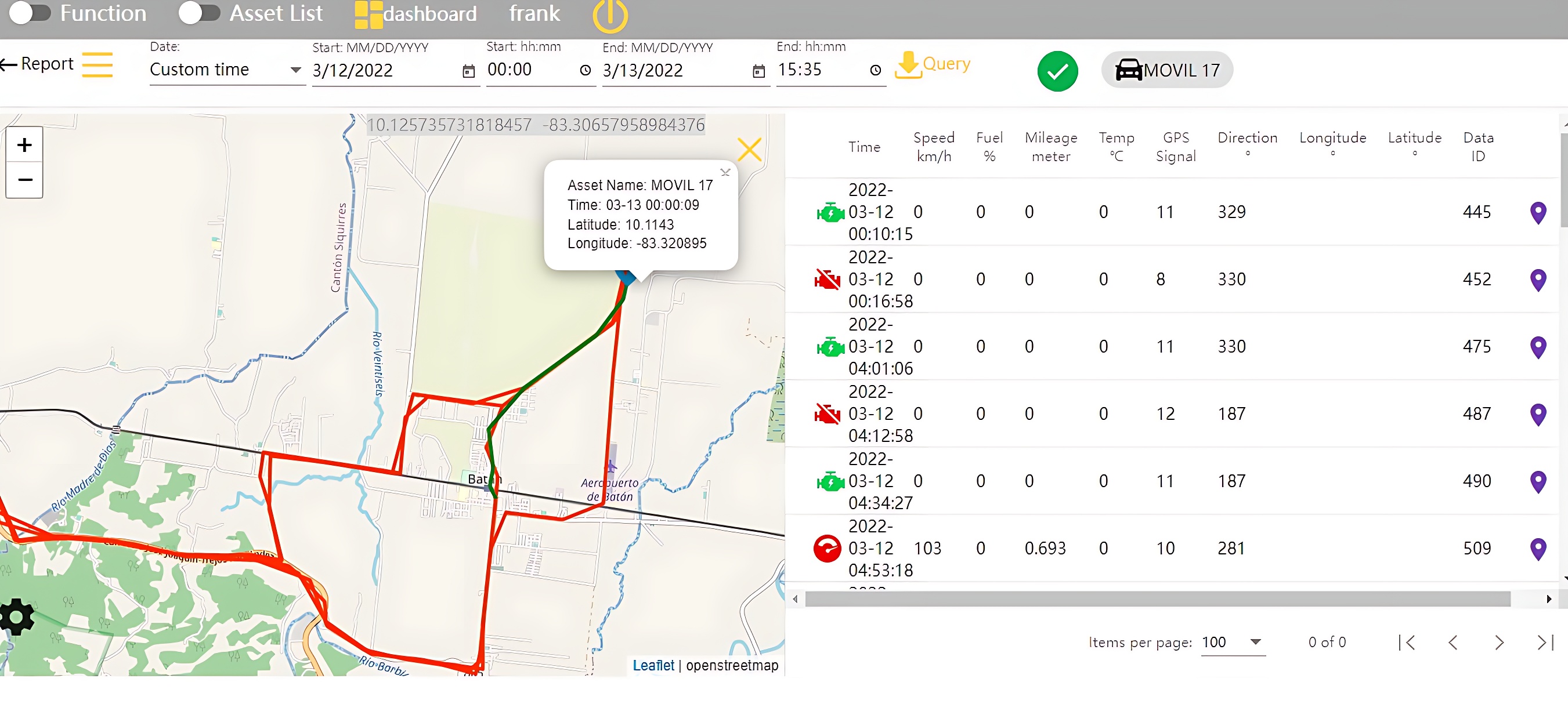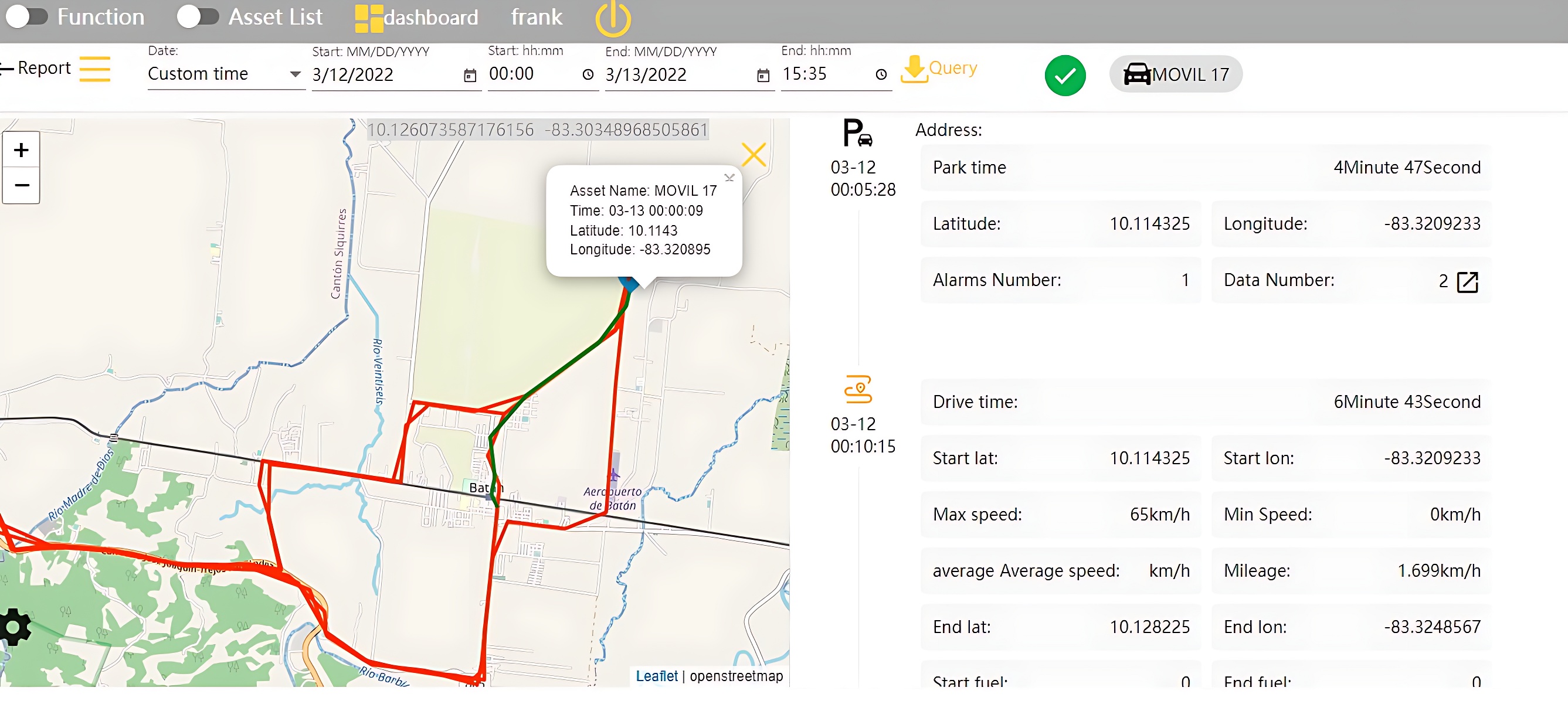 We provide this manufacturer's warranty of 12 months from the date of purchase for all Tomanbox products. If you believe you have received a defective product, or are experiencing any problems with your product, please contact us.

This warranty strictly does not cover damages that arose from negligence, misuse, wear and tear, or not in accordance with product instructions (dropping the product, etc.).

If your product malfunctions or fails to perform, you may be eligible for a free replacement (Terms & Conditions apply).

To obtain service under this Warranty, please contact us with the following information in order to determine the problem and the most appropriate solution:

Proof of purchase
Photo/Video of the faulty product
Please clearly specify the issue with your purchased item. If the problem cannot be resolved, we will send you a replacement, or a full refund including all delivery charges.

Please provide a valid proof of purchase in your initial enquiry, such as your order number on our online store, or a receipt from an authorized retailer. Unfortunately, we cannot offer the warranty to products without proof of purchase.

Please note, to receive a free replacement, you may be asked to send the faulty product to TomanBox at no cost to you. Full warranty terms & conditions can be found below.
DETAILED LIMITED PRODUCT WARRANTY POLICY
This manufacturer's warranty is not intended to change or limit your right under the laws of the country in which you purchased TomanBox product. TomanBox warrants our products against defects in material or workmanship for a period of two (2) years from the original date of purchase of the product by a consumer (the "Warranty Period"). TomanBox does not warrant and is not responsible for any other product or device made by anyone other than TomanBox. If a material or workmanship defect arises with regard to any TomanBox product, and a valid claim is received within the Warranty Period, we will at our option: (i) repair the TomanBox product using new or refurbished parts; (ii) replace the TomanBox product with a new or refurbished TomanBox product; or (iii) refund the purchase price of the defective TomanBox product. You may also have other legal rights under the applicable local consumer protection law.

For the purposes of this limited warranty, "refurbished" means a product or part that has been substantially returned to its original specifications. In the event of a defect, these are your exclusive remedies.

Except for the limited warranty expressly set forth above or to the extent restricted or prohibited by applicable law, TomanBox expressly disclaims any and all other warranties express or implied, including any warranty of quality, merchantability or fitness for a particular purpose and you specifically agree that TomanBox shall not be liable for any special, incidental, indirect, punitive or consequential damages for breach of any warranty of any type on any TomanBox product. For the avoidance of doubt, the limited warranty does not cover damages that arose from negligence, misuse, wear-and-tear or failure to follow the product instructions (e.g. dropping the product etc.). In addition to and without limiting the generality of the foregoing disclaimers, the limited warranty does not, under any circumstances, cover the replacement or cost of any electronic device (including but not limited to any mobile phone devices) or personal property inside or outside of the TomanBox product.